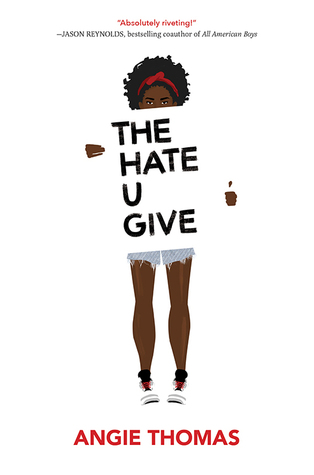 Sixteen-year-old Starr Carter moves between two worlds: the poor neighborhood where she lives and the fancy suburban prep school she attends. The uneasy balance between these worlds is shattered when Starr witnesses the fatal shooting of her childhood best friend Khalil at the hands of a police officer. Khalil was unarmed.
Soon afterward, his death is a national headline. Some are calling him a thug, maybe even a drug dealer and a gangbanger. Protesters are taking to the streets in Khalil's name. Some cops and the local drug lord try to intimidate Starr and her family. What everyone wants to know is: what really went down that night? And the only person alive who can answer that is Starr.
But what Starr does or does not say could upend her community. It could also endanger her life.
The Hate U Give
was fittingly released one month after Donald Trump was inaugurated, a controversial president who's known for his discriminating policy, but the idea of
The Hate U Give
sparked eight years ago when Thomas made a short-story project for her senior year in 2009. The project was visceral, giving her some emotional restrain. But voicing the truths is important, no matter how painful it is, and all of the injustice from which every black community suffers, starting from
Trayvon Martin
,
Mike Brown
,
Sandra Bland
(Dev Hynes of Blood Orange writes an emotional song about Sandra Bland in
"Sandra's Smile"
), and other African American people somehow strengthens her. It may be fifty years since Rosa Parks refused to give up her seats for white man, but the discrimination, prejudice, and injustice will always exist, especially in a time like this. Writing
The Hate U Give
is urgent.
On one of the most beautiful songs that's ever written,
"Cranes in the Sky"
, Solange Knowles deals with the rejection that she gets just from being a black woman in America. In an era where people scream for the gender equality, "Cranes in the Sky" seems ironic, but Solange tells the story that other black women never have a chance to tell. Starr Carter, a sixteen year teenage girl probably understands this more than any of other teenagers, especially since she's the only witness of her best friend's shooting. Khalil was shot by people who are supposed to protect him. Before the incident, Starr was just a girl who lives in "ghetto" area of New York, who are considered to be lucky since she has complete parents figure and has a chance to study in one of the poshest schools in town. But after that, Starr is never the same when the news hits national media. Starr is afraid to talk, but that's what the authority expects her to be.
The Hate U Give
recounts her experience as she collects her courage and fins her voice. Sometimes the loudest voice comes from the most silenced people.
The Hate U Give
captivates you from the start thanks to Starr, the main character and the narrator of the book as she navigates herself through two opposite worlds that she has to go through. In her "ghetto" neighborhood, she must become a black girl who must embrace all black culture and such, especially considering her "strict" father who used to be a drug dealer. In her school, Starr is a popular jock whose boyfriend is the star athlete and happens to be white. It's hard especially since she's just one of few African American students and all spotlight goes directly to her. Starr seems to be able to juggle the world quite easily, but it all changes when Khalil was shot. She's become more aware of her identity, that she must be vocal in voicing what's right and what's wrong. In the most painful way, Starr must learn that letting go of your best friends, after weighing what's good and bad, is necessary and no matter how much you have struggled to get something that you believe it's true, sometimes life's a cold man who never let you get everything you want, but she knows that the most important thing is keep doing and saying the right things.
In a world where everything seems to get worse, it has become essential not to be silence and let the injustice prevail.
The Hate U Give
has reminded us that discrimination isn't a good thing and something that we must fight against. The magic of the book is that it's not applied for only black people in America, but also minorities that scatter everywhere around the world.