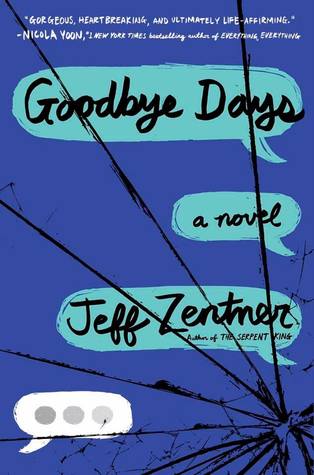 What if you could spend one last day with someone you lost?
One day Carver Briggs had it all—three best friends, a supportive family, and a reputation as a talented writer at his high school, Nashville Academy for the Arts.
The next day he lost it all when he sent a simple text to his friend Mars, right before Mars, Eli, and Blake were killed in a car crash.
Now Carver can't stop blaming himself for the accident, and he's not the only one. Eli's twin sister is trying to freeze him out of school with her death-ray stare. And Mars's father, a powerful judge, is pressuring the district attorney to open a criminal investigation into Carver's actions.
Luckily, Carver has some unexpected allies: Eli's girlfriend, the only person to stand by him at school; Dr. Mendez, his new therapist; and Blake's grandmother, who asks Carver to spend a Goodbye Day with her to share their memories and say a proper goodbye to his friend.
Soon the other families are asking for a Goodbye Day with Carver, but he's unsure of their motives. Will they all be able to make peace with their losses, or will these Goodbye Days bring Carver one step closer to a complete breakdown or—even worse—prison?
On Mount Eerie's
"Real Death"
, Phil Elverum laments the death of his wife. "Death is real," he solemnly begins, "Someone's there and then they're not." Elverum knows that death will come when his wife, Geneviève, was diagnosed with pancreatic cancer, but nothing can prepare him for the real death. However, we all fully get the point. Death seems like an abstract matter, a distant concept. Death is certainty, we all know that, but no matter how ready we are to face it, we always lose, especially if it's related to our loved ones.
Much like death, nothing can prepare us for Jeff Zentner's
Goodbye Days
, a marvelous sophomore effort from the writer of
The Serpent King
. Right from the start, Zentner throws us directly to the bleakest scene in the history of young adult books. Carver Briggs, 17, just lost three best friends (Blake, Eli, and Mars) on a car accident. The catch was he was texting them when they drove the car and Carver pretty much blamed himself. But, guilt is one of the emotions that he feels right now. The death of his three best friends made him lonely, yet scared at the same time. He was scared when the parents of his best friends blamed the accident on him. He was scared when the school started, he will be alone. He was scared if he took advantage of his best friend's death by having feelings to beautiful Jesmyn, Eli's ex-girlfriend.
Death closes the chapter of someone's life, yet we--the lived ones--all still feel the need to have some closure, and that's what's this book's all about: finding closure. Goodbye days is this twisted idea from Nana Betsy, Blake's grandmother, to have one day to celebrate the last day for Blake. As his death was abrupt, Nana Betsy who have raised Blake since he was eight, felt the urgency to do so. Yet, Carver was unsure until he had panic attacks and he met a shrink who made him realize that he and Nana Betsy need to close some chapter, a chapter with Blake. It's more or less what happens with the other parents from Eli and Mars, but their dynamic relationship and their stance on Carver's position on the accident may prove that goodbye days is a good idea after all. Then, Carver realized that there are sides of his friends that he never knows, and there are sides of his friends that their parents never know. On goodbye days, they all celebrate by reminiscing the real version of Carver's friends, unveiling heartbreaking and vivid details about Blake, Eli, and Mars.
At first, it's hard to put
Goodbye Days
down, but as you keep turning the pages, you find it that the book is too visceral and emotional. It's rare thing to see a bunch of teenage boys can do something that leaves you some deep impression, but here we have Carver with his kindness and sensitivity, the only "survivor" who tries to figure out his life after losing his friends. There are some time when he's catatonic, unable to feel anything because the pain is too much, but he was lucky to have supportive family and Jesmyn, the only person in this world what he actually felt. He often reminisces the past times when he met his friends for the first time, when they all had prank together, when they all were being stupid and presumptuous teenagers. But, as he starts to understand that the accident was not his fault, and his wounds start to heal, he reminisces less and moves on. He fully understands that moving on doesn't make him love his friends less, proven when he starts gathering his life together, he lets himself have one final sweet memory of his friend in a warm and beautiful late September.
Goodbye Days
is a definitely a nice surprise, a realistic portrayal of how teens deal with death, a concept that's so abstract. We'll never know when death comes and we can't prepare for it. It's funny that death actually affects the living people than dead ones. Carver Briggs knows about it and he learns from it.