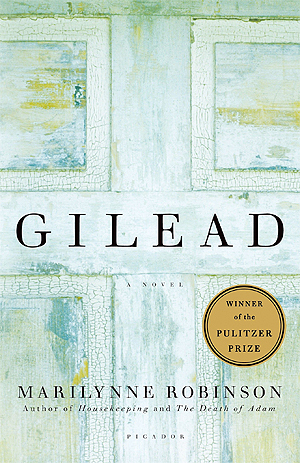 Twenty-four years after her first novel,
Housekeeping
, Marilynne Robinson returns with an intimate tale of three generations from the Civil War to the twentieth century: a story about fathers and sons and the spiritual battles that still rage at America's heart. Writing in the tradition of Emily Dickinson and Walt Whitman, Marilynne Robinson's beautiful, spare, and spiritual prose allows "even the faithless reader to feel the possibility of transcendent order" (
Slate
). In the luminous and unforgettable voice of Congregationalist minister John Ames, Gilead reveals the human condition and the often unbearable beauty of an ordinary life.
Review
Twenty-four years is the time that
Marilynne Robinson
needs before she releases her second novel. The wait is long, but it all pays off.
Gilead
, her sophomore book, is a breathtaking epistolary, the collection of letters from a dying father--who realizes that he may not live long due to his heart condition--to his 7 year-old son.
At first, it reminds me a lot of
Sabtu Bersama Bapak
, but written from the father's point of view and much more antediluvian and old-school. The comparison is unfair, of course, especially because
Sabtu Bersama Bapak
is honestly not that
enjoyable
. Even so,
Sabtu Bersama Bapak
may be resonant with most of people--a story about loving parents is
always
resonant--and that's one particular reason that makes me compare
Gilead
and
Sabtu Bersama Bapak
.
Gilead
, to be frankly, is not that enjoyable either at the beginning, but with Robinson's consistent steadfastness in telling words of John Ames, the main character, and her genuineness,
Gilead
becomes a pleasant experience for me.
Not only
Gilead
tells the story about the unconditional love of a father for his son, this book also depicts a humble story of forgiveness. Taking place in a small town named Gilead in Iowa circa 1950s, Robinson elaborates the story of three generations of John Ames--all were reverend--and their travail: world war, influenza, drought, or depression. John Ames the third, the narrator of the story, writes in his letters about the life of his father and grandfather, so that his son--the fourth generation--will be able to remember him for he won't be there for his son for long. Written from his point of view, Robinson successfully captures the vulnerability of an old man, his worries, his fear of being old, his fear of leaving his family, his fear of leaving the world, and his fear of not leaving enough legacy for his descendants. Like it or not, those are also what we fear the most in this world.
Gilead
also recounts John Ames' struggle with his faith. As his faith starts to crumble and he tries to recollect the pieces of faith he has left, the book also provokes the real meaning of being Christian--sometimes it feels preachy, but mostly it hits the bull's eye.
Gilead
may be plotless as it's just a collection of John Ames' experiences from the past and his hopes for the future. The struggle to finish the book is real, especially at the beginning of the book where the passages are incredulously long. But, I see it as the development of John Ames' character. At first, he may be full of grief and anger and fear--as proven with his long letters that thoroughly elaborate what's going inside his mind. But as the time rolls and the secrets unravel, John Ames finally came to the acceptance phase, and his letters become briefer and shorter and are written in much lighter tone.
In less than 250 pages,
Gilead
feels really compact and complete. It contains a lot of emotion as well, especially by the end of the book, where suddenly everything makes sense before I realize that it ends, leaving me bereft. In an interview with Robinson in 2015, Obama admitted that John Ames is one of his favorite fictional characters, saying that's he's a
gracious and courtly
man who tries to reconcile with his faith, before proclaiming that he fell in love with the book. Obama may not sometimes make good decision, but I cannot agree more with his opinion toward
Gilead
. It's indeed beautiful and breathtaking.