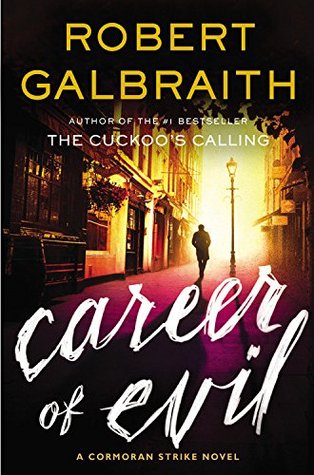 Robert Galbraith
(or J.K. Rowling or whoever)
Career of Evil
Mulholland Books
497 pages
8.0
Blurb
When a mysterious package is delivered to Robin Ellacott, she is horrified to discover that it contains a woman's severed leg.
Her boss, private detective Cormoran Strike, is less surprised but no less alarmed. There are four people from his past who he thinks could be responsible – and Strike knows that any one of them is capable of sustained and unspeakable brutality.
With the police focusing on the one suspect Strike is increasingly sure is not the perpetrator, he and Robin take matters into their own hands, and delve into the dark and twisted worlds of the other three men. But as more horrendous acts occur, time is running out for the two of them…
Career of Evil is the third in the series featuring private detective Cormoran Strike and his assistant Robin Ellacott. A mystery and also a story of a man and a woman at a crossroads in their personal and professional lives.
Review
Boy, I love Kindaichi. I love (reading about) serial murder case. I mean after reading Kindaichi, I begin to think that trick and murder are another form of art, no matter how sick and twisted it sounds. I also love whodunit detective story, as it always forces my brain to grind and work--it is rare, you know, to make my brain work.
Just kidding.
So, on his third book, Galbraith decides to escalate the case to the next level. If we face more meticulous single murder case on previous books, Career of Evil has serial murder case which somehow feels sloppy and in a rush. Oh, yes. This is still a good read, as Galbraith often throws us many red herrings to distract us from the real killer--which sometimes can be tiring and exhausting because I feel like I am thrown to the wall; my back aches badly. Galbraith--which means Rowling--also has habit to give unnecessary details that seem not important--and it turns out nor important. I mean Cormoran Strike can just casually promenade in London pedestrian, when a flashback occurs, and I don't know when a flashback occurs because there isn't any sign. So when I begin to feel stupid because the story doesn't intertwine, I learn that this is a flashback. While I know that abundant details work like a charm (no pun intended) in Harry Potter as it helps establish the world-building, and I know the importance of red herring in detective stories, it just feels off to read such tremendous amount of description without any substance.
Gladly I have put my suspicion to a guy--which turns out to be real culprit.
Whoa! Sometimes I admire how smart I can be.
Just kidding. I'm stupid.
What I like about Career of Evil, though, is that Galbraith unravels us more about the relationship between Cormoran and Robin which is hot and rebellious. I mean Robin can be sometimes unbearable; Matthew, Robin's fiance, can be sometimes unberable. Cormoran can be unbearable rarely. And it makes the characters feel more real, and that's what makes the relationship between Cormoran and Robin feels so... alluring. I don't know. I've never fallen for my co-workers. But, the important is that Galbraith adds another dimension to Cormoran's personality. He--Cormoran--is not only depicted as a taciturn, rugged, cold and rough private detective, but as a man who can show emotion--which is great.
Career of Evil is, though, honestly the best book from all Cormoran Strike series so far. It contains a clever whodunit mystery, with some thrill injected to its sentences. It also contains more feeling compared to previous books. And to be honest, I'm surprised with the ending. I'm surprised in a good way. Well, you're the man, Cormoran!