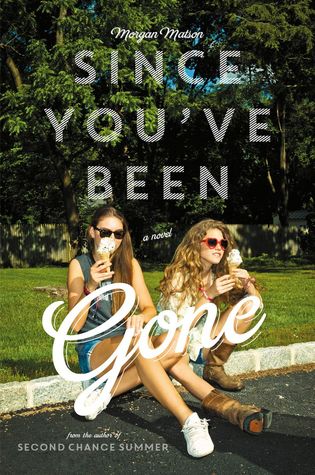 It was Sloane
who yanked Emily out of her shell and made life 100% interesting. But right before what should have been the most epic summer, Sloane just…disappears. All she leaves behind is a to-do list.
On it, thirteen Sloane-inspired tasks that Emily would normally never try. But what if they could bring her best friend back?
Apple picking at night? Okay, easy enough.
Dance until dawn? Sure. Why not?
Kiss a stranger? Um...
Emily now has this unexpected summer, and the help of Frank Porter (totally unexpected), to check things off Sloane's list. Who knows what she'll find?
Go skinny-dipping? Wait...what?
Review
Sorry, but I am a little bit biased here. I mean Morgan Matson is one of few authors who acknowledges the existence of Parachute. Yeah, even though "Kiss Me Slowly" is one of the most mainstream songs that is often used everywhere, still it should've deserved more recognition.
Anyway, Since You've Been Gone--the book, not Kelly Clarkson's song--is really typical Matson. I only have read Amy & Roger's Epic Detour, but like that book, Since You've Been Gone is a really polite book. I mean it has parents or teacher approval stamped all over the book. It is a clean book, light reading, and no hot sex. This book is like an honor roll friend who visits your house, and your parents approve of your friendship.
But, to be honest I like Amy & Roger's Epic Detour more. That book has more to offer: American roadtrip, great premise, cute characters, and well more real problem. The problem with Since You've Been Gone is that this book feels really flat, with no steep mountain on Freytag's graph. the problems seem so artificial, and feel so juvenile. I probably begin to grow too old for this kind of book.
Well, I don't know.