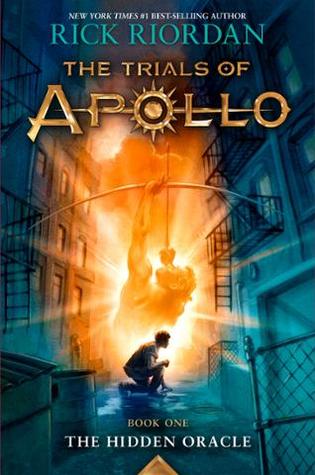 How do you punish an immortal?
By making him human.
After angering his father Zeus, the god Apollo is cast down from Olympus. Weak and disorientated, he lands in New York City as a regular teenage boy. Now, without his godly powers, the four-thousand-year-old deity must learn to survive in the modern world until he can somehow find a way to regain Zeus's favour.
But Apollo has many enemies - gods, monsters and mortals who would love to see the former Olympian permanently destroyed. Apollo needs help, and he can think of only one place to go . . . an enclave of modern demigods known as Camp Half-Blood.
You don't go to
Rick Riordan
for authenticity or originality; you go to Rick Riordan for entertainment. And that's exactly what he offers in his latest effort,
The Hidden Oracle
.
If you read
The Hidden Oracle
, you may start humming, "Oh, boy, here we go again." Riordan may milk this Demigod franchise over and over again, but he has something that many other writers lack of: the knack for writing something entertaining. After all, the main purpose of narrative text is to entertain, and Riordan, like it or not, has met the purpose.
The Hidden Oracle
is no exception. It's still entertaining as ever, like his previous books are.
The main character, Apollo, who's punished by Zeus to be a mere mortal has the same voice with Percy or
Magnus Chas
e
: sarcastic, humorous, and kinda stupid--but more megalomaniac and narcissistic. It's indeed fun, of course, to read from Apollo's point of view, and Riordan's humor is still as funny as his previous books.
However, the plot is recycled over and over again.
Trials of Apollo
, shorter than most of Riordan's opus, is able to deliver a new villain(s), while he can still connect them to his previous Demigod series. It's mesmerizing, to be honest, after having been milked for more than ten books, Greek myths still have anything to be milked--but that's the case here.
Trials of Apollo
offers new section of Greek myths--that surprisingly are still untouched in his previous books. And that's refreshing nonetheless.
It seems like Riordan can't let his characters go, and that's completely humane.
Trials of Apollo
becomes a nice little reunion for our beloved characters from Heroes of Olympus, that I quite enjoy. I just hope that Riordan will let them go. Maybe someday.