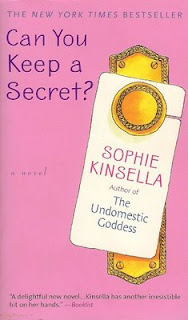 Sophie Kinsella
Blurb
Meet Emma Corrigan, a young woman with a huge heart, an irrepressible spirit, and a few little secrets: Secrets from her boyfriend: I've always thought Connor looks a bit like Ken. As in Barbie and Ken. Secrets from her mother: I lost my virginity in the spare bedroom with Danny Nussbaum while Mum and Dad were downstairs watching Ben-Hur. Secrets she wouldn't share with anyone in the world: I have no idea what NATO stands for. Or even what it is. Until she spills them all to a handsome stranger on a plane. At least, she thought he was a stranger.…Until Emma comes face-to-face with Jack Harper, the company's elusive CEO, a man who knows every single humiliating detail about her...
Review
Sophie Kinsella may write those fluffy and sweet chicklits that are never going to happen in real life whatsoever, but somehow she successfully twists her story in such a witty way that her books are somehow enchanting and charming.
And that is also the case with Can You Keep a Secret. This book is definitely hilarious and jocular--which I really enjoyed. Even though the plot is like coming out of this world and unreal, Kinsella adds unique and memorable scenes that people never thought before.
And that is where Kinsella's strength is.