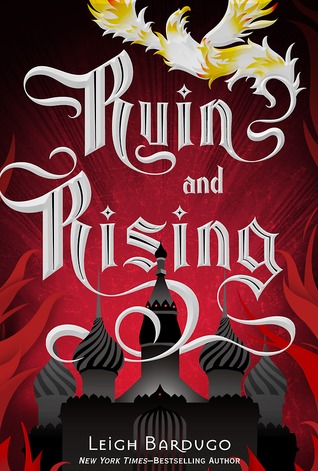 Blurb
The Darkling rules Ravka from his shadow throne.
Now the nation's fate rests with a broken Sun Summoner, a disgraced tracker, and the shattered remnants of a once-great magical army.
Deep in an ancient network of tunnels and caverns, a weakened Alina must submit to the dubious protection of the Apparat and the zealots who worship her as a Saint. Yet her plans lie elsewhere, with the hunt for the elusive firebird and the hope that an outlaw prince still survives.
Alina will have to forge new alliances and put aside old rivalries as she and Mal race to find the last of Morozova's amplifiers. But as she begins to unravel the Darkling's secrets, she reveals a past that will forever alter her understanding of the bond they share and the power she wields. The firebird is the one thing that stands between Ravka and destruction—and claiming it could cost Alina the very future she's fighting for
Before I begin to rant about this book, can I complain how I loathe the new user interface of Goodreads. I know that modern layout tends to be more obtuse and rounded, but this whole new layout is so cluttered and atrocious. It==I quoted what my boss said word by word--
dun make sense at all
.
Anyway, I think this will be my last book that I read this year, as all my books left unread are Dune--I cringe when I click the insert book/author feature, it's so fucking messy--and Inkworld series--which I'm not sure I'm able to finish one of them in remaining days of this year.
But, yeah whatever. Let's talk about the ending of the original trilogy of The Grisha series--as we have more Grisha in Six of Crows. As I have uttered over and over, The Grisha has so much potential in Shadow and Bone. The Russian-insinuated high fantasy (even though Bardugo messes the Russian surname--according to some knowledgeable people--but I won't complain since it is high fantasy anyone so why we should follow the real Russian world anyone???), great characters with great sense of humor, an intriguing premise. The Grisha has all basic recipe to be a great trilogy after all.
But, Bardugo mistakenly mixes the wrong ingredients. It all begins in the second book, while I begin to sense that the magic has lost. It starts to feel boring and all the excitement that I had when I read the first book all magically vanished.
Bardugo tries to fix it on the third book which I really appreciate it. The only problem is that the the first half of the book particularly can be omitted. It feels like Bardugo wants to stretch this book till the climax where a twist is introduced which is really nice actually. When a final battle occurs, the quality of book begins to dwindle again. But, when it comes to the ending, she gives us such a sweet ending that it warms my cold heart.
Ruin and Rising is really unstable for me. It's like a roller-coaster. The journey to the top has been tiring and exhausting and uninspiring, but when the roller-coaster starts to go down, it's an exhilarating and enjoyable ride. It's an okay ending for a trilogy that has so much potential.