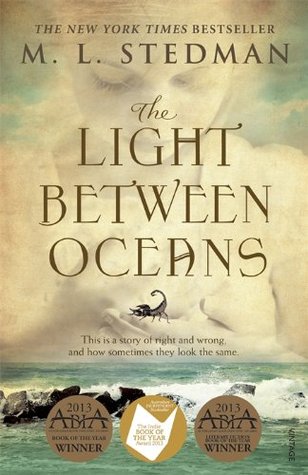 M.L. Stedman
Blurb
AFTER FOUR HARROWING YEARS ON THE WESTERN Front, Tom Sherbourne returns to Australia and takes a job as the lighthouse keeper on Janus Rock, nearly half a day's journey from the coast. To this isolated island, where the supply boat comes once a season, Tom brings a young, bold, and loving wife, Isabel.
Years later, after two miscarriages and one stillbirth, the grieving Isabel hears a baby's cries on the wind. A boat has washed up onshore carrying a dead man and a living baby. Tom, who keeps meticulous records and whose moral principles have withstood a horrific war, wants to report the man and infant immediately. But Isabel insists the baby is a "gift from God," and against Tom's judgment, they claim her as their own and name her Lucy. When she is two, Tom and Isabel return to the mainland and are reminded that there are other people in the world. Their choice has devastated one of them.
Review
The opinion for Stedman's debut, The Light Between Oceans, may be too polarized, with some people praise for Stedman's knack for her kaleidoscopic description--so colorful, beautiful, and rich in building Australia setting at the beginning of the 20th century, while some others criticize her book for unbearable characters and the illogical decision they all make. For me, I honestly really like The Light Between Oceans because it's just pure honest, a genuine tale about love of a lighthouse keeper's family who--is just like a normal human being--makes mistakes, chooses wrong, and each must face devastating consequences. I won't deny, though, that Feldman successfully squeezes my tear glands here and there.
Mostly taking place in 1920s, The Light Between Oceans is a story about Tom Sherbourne, a lighthouse keeper on Janus Rock, a remote island southwestern of Partaguese, a small settlement in western Australia. He's an ex-veteran who has seen enough death, and decides to spend he always feels he cheats death, and wants to redeem himself, and being a lighthouse keeper is the least he can do. At least, he can get some peace and tranquility in the island. But it's until he meets Isabel, a woman that's able to make his stomach turn upside down, and later does he know, they marry and live such a happy life.
Or they think so. Isabel undergoes two miscarriages and one stillbirth, and these experiences grieve her. When a boat washed up to Janus Rock's shore, carrying a dead man and a baby girl, Tom and Isabel debate what they're about to do. While in mainland, a woman loses a husband and a daughter. Little do they know, it's also the start of their journey in facing consequences for every moral decisions they all have decided.
Contrary to other reviews, I love two main characters of The Light Between Oceans. Tom, for example, is a role model of a loving mother and husband, who will sacrifice his life for the sake of his wife, regardless of his wife's feeling toward it. He grips his moral principle too tight, and in the end, it's the thing that suffers him. But, really, Tom is what a responsible man supposed to be. At first, I think Stedman is a male author, because of the way she describes Tom is so realistic and fluid as if the author had gone same experience with Tom's; therefore I assume Stedman is a man, and it turns out I am wrong. I am supposed to know from the way Isabel reacts and talks; it's blazed with emotion and intense--a real and loving mother who has gone through despair and grievance, longing for a child. It's only woman who can describe the pain of mother in such intricate detail. Feldman successfully deteriorates and ebbs my moral compass, that it makes me want nothing but the joy and blitheness for their family. It's also the reason why I become so protective when Hannah, the real mother of the baby, tries to snag this family's happiness. It's weird, though, because Hannah is the victim, but Feldman has that flair to make me sympathize with Tom and Isabel. In a way, Tom and Isabel are a victim too. The Light Between Oceans will also test your moral principle, without sounding too preachy. It will ask you the moral value you have held for your life, ask you, "What will you do in their condition?" The ending of the book breaks your heart, but in a happy way. I don't know if it's possible, but that's what happens.
This book is also picturesque. Oh, man, Stedman can narrate, that's for sure. This book will transport you directly to the setting, and you can see the characters with your own eyes, you can smell the redolence of Partaguese and Janus Rock, you can touch the sea that separates the island from the mainland, you can feel the salty warm breeze of ocean slaps your skin. I think it's the strong point of the book. But I also have to admit, though, that Stedman's inconsistencies in writing narration in both present and past tense at first intrigues me. However, after finishing the book, I still don't find the reason why Stedman does such thing in purpose. So, anyone bother to explain?
Having watched the trailer for the film (released in September this year) starring Fassbender (which inscrutably matches Tom's effigy in my mind, but it's probably because I watch the trailer first, but man, Fassbender can be anything. He can be a tree and get nominated for Oscar), Vikander (who has more challenging role based on the book), and Weisz, I really have such high expectation for the movie. If the movie is as heartbreaking as the book, I probably should stock some tissues up from now.